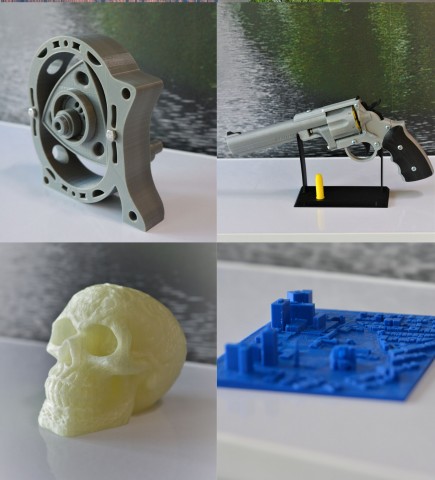 5 TERRIFIC BENEFITS FOR BUSINESSES
3D prototyping is a new way of using CG, which involves converting digital models into functional objects via 3D printing. The range of possible items is not limited to figurines: entire buildings, working computers, food and even internal organs – and this is only the beginning! Three-dimensional prototypes are not limited to solid real objects – product 3D rendering or animation can work as well.
#1. 3D Prototyping Is Cheaper Than Traditional Means Of Prototyping Designing furniture is not a cheap process. After draft phase the product must be "field tested", which requires a physical representation of the sketches. Before 3D printers were invented this meant that a producer had to make disposable one-use props to test the design. And if it didn't work money were thrown to the wind. 3D prototyping is a far cheaper alternative.
#2. 3D Prototyping Can Produce Product Prototypes In Bulk Even if a business is focused on creating one type of furniture, many prototypes have to be made before the final product is launched. Sometimes it may take dozens of tries to come up with that "perfect" piece. Imagine what a nightmare is classic prototyping for the industry giants like IKEA! A company will waste more resources on creating props than actually selling merchandise. 3D prototyping is a great solution to making designs come to life in bulk, and fast, too. It can even be done without actually printing the prototypes – ordering high quality 3D models, renders or animations will showcase future products in the best possible way.
#3. 3D Prototyping Provides A Smooth Transition From Prototypes To Serial Products After a piece is designed and visualized, 3D prototyping can actually be used for further serial production. Modern toners are not just limited to plastic, but also metals and even fabric. Besides, they are quite durable when molded, which means that companies can smoothly transition from prototypes to actual serial manufacturing. For example, Boeing is currently working on a plane that is entirely 3D printed, part by part. And if an entire flight jets can be made this way, furniture obviously can be, too.
#4. 3D Prototyping Will Accurately Depict Your Design When it comes to accuracy of depicting ideas, traditional means are not very effective. Hand-drawn sketches can't showcase all features of items. 3D prototyping can showcase products from any angle, create prototypes for any variation of original design and add context to merchandise demonstration. It's even not necessary to print the prototype, 3D modeling and rendering can be a perfect way of visualizing new product design on their own. Better still, these visuals will make perfect materials for product advertising!
#5. 3D Prototyping Is Unparalleled In Terms Of Product Quality Demonstration Any producer has to make potential clients think that their products are of the best quality. 3D prototyping is extremely persuasive even as a static CG image. It is possible to show what elements does furniture prototype consist of and even animate it to focus customer's attention on product's avantages. Also, as was mentioned before, 3D printers can emulate almost any material that exists. This works on several levels. First, such company will be seen as modern, using cutting-edge technology. Secondly, printed furniture is flawless in terms of manufacturing due to it being made by a computer. And thirdly, same furniture can be made from different materials without any drop in quality. 3D prototyping is the future of all manufacturing. It is flexible, easy to employ, cheap and is constantly improving. But 3D printers require high-quality 3D models to operate.
So start using 3D modeling services!